At ProMedica Senior Care, We Grow Nurses
As a company, we're more than just health care. We provide high quality of care for our patients and residents, but also for our employees. Our commitment to our employees goes much further than the walls of our facilities. We offer a variety of ways to help our employees further their education, ease your nursing student loan burdens, and prepare you for a career in health care. We believe in growing nurses from the beginning of their careers as Nursing Assistants all the way through their transitions to management and leadership. Check out our nursing professionals career path options below. We're here for our nurses every step of their career journeys.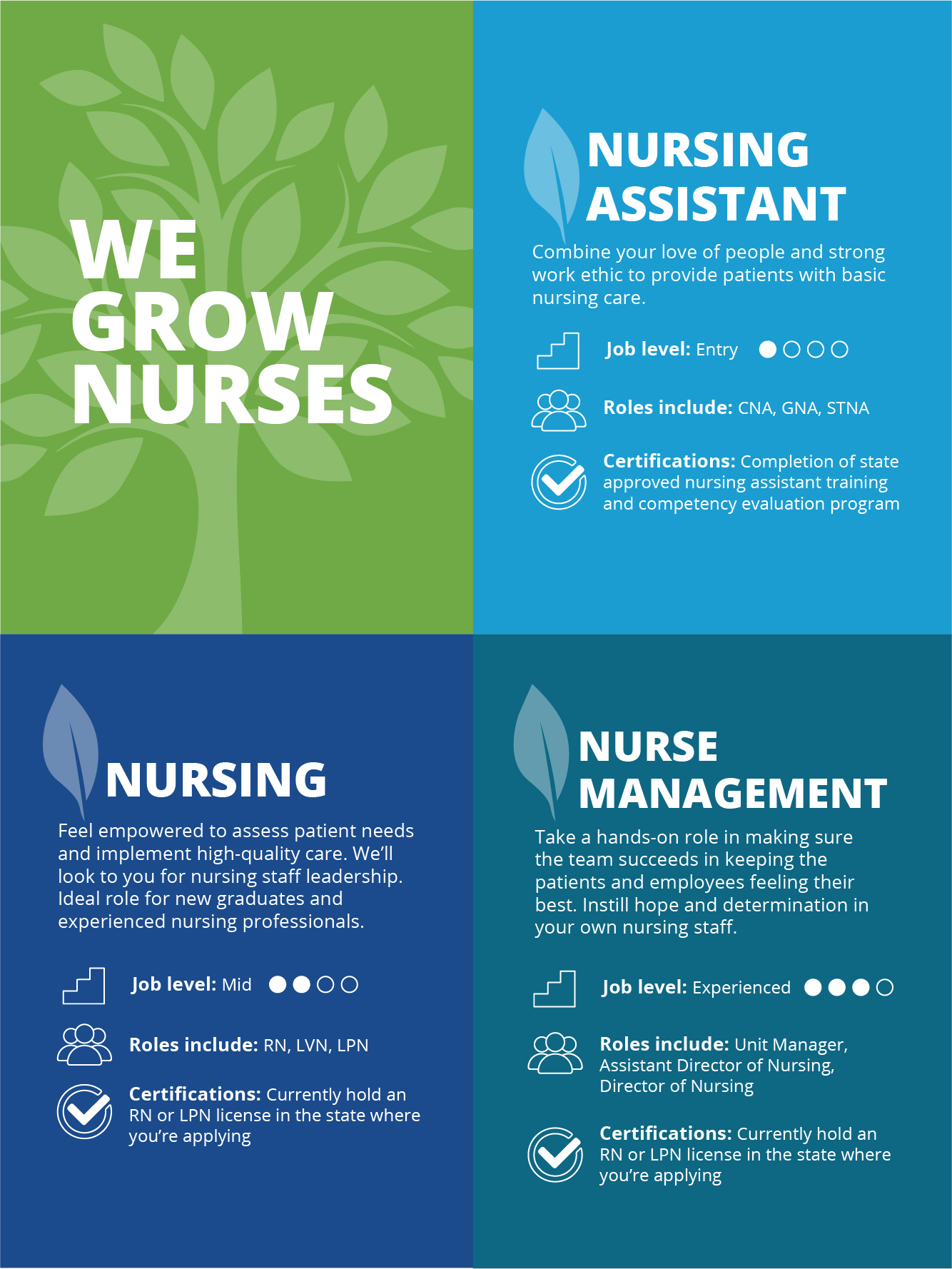 At select ProMedica Senior Care facilities, we offer a Nursing Assistant Training Program, which includes hands-on training and aids with the cost of taking a state certification exam. You'll be gaining valuable experience on your path to a fulfilling career in nursing.
Tuition Discounts
We like to help our employees succeed by helping kickstart their health care careers. We partner with multiple colleges and universities nationwide to provide discounts to our ProMedica Senior Care employees. Check out some of the schools we partner with below.
DeVry University
Take a free undergraduate course and if you continue classes (undergraduate or graduate), you'll receive a 30 percent tuition discount.
Chamberlain University
Receive 15 percent discounted tuition off a Master of Public Health degree.
Chamberlain College of Nursing
Receive a special tuition rate for ProMedica Senior Care employees who are RNs for:
RN to BSN degree
RN-BSN to MSN
Master of Science in Nursing
Graduate Certificate Program
Doctor of Nursing Practice
Walden University
Receive 20 percent off tuition, plus grants.
Carrington College
Receive 30 percent tuition discount off of Pharmacy Tech, Medical Assisting, Medical Billing and Coding, Health Administration programs and more
No application or transcript request fees
Career services and deferred billing also available
Purdue Global
Receive 14 percent reduced tuition rate toward undergraduate and graduate degree programs and certificates for employees and immediate family members
Textbooks and course materials are included in the cost of undergraduate tuition
No application fees
On-the-job training or experience may translate into college credits
Three-week introductory trial for new undergraduate students to try classes before paying any tuition
Pittsburgh Technical College (PTC)
Tuition Assistance Program
Receive up to $10,000 – lifetime maximum when you are enrolled in an RN, LPN or BSN Accredited Program. To be eligible for assistance, you must submit an application as there are limited openings per year.
This program is open to all ProMedica Senior Care nursing employees. You could get up to $100 per month to ease the burden of your student loans up to a lifetime maximum of $12,000.
Continuing Education
Unlimited continuing education courses for full-time and part-time licensed staff through our online learning management system (applies to all company-paid programs, not just free continuing education).
Interested in making a difference in your career? Join our helpful, caring and responsive team today!