Why it Pays to Relocate as a Nurse
As the fastest-growing occupation in the U.S., the nursing industry is in a significant state of transition. According to the Bureau of Labor Statistics, registered nurses account for 2.6 million jobs in the U.S. By the end of 2018, the BLS experts expect Registered Nurses to grow to 3.2 million. Due to variable growth factors, relocation within the nursing field has created an influx of job opportunities.
At ProMedica Senior Care, we care for people nationwide – not just our patients and residents, but our employees, too. Our footprint allows for employees and candidates to move their ProMedica Senior Care career almost anywhere in the country.
ProMedica Senior Care Nurses
ProMedica Senior Care nurses are a part of a team helping patients restore function and independence to enrich their lives. Whether our patients are recovering from an illness or injury or suffering from an advanced condition, our patients – and their families – can always count on our nurses.
As a part of our nursing team, you'll enjoy excellent training, industry-leading benefits and unlimited opportunities to grow and share your passion for caring. Below is a list of some of the benefits we offer our nurses:
Joining a nationwide employer
Professional growth
Flexible scheduling
Innovative training programs
Tuition reimbursement
Career stability
Experiencing different cities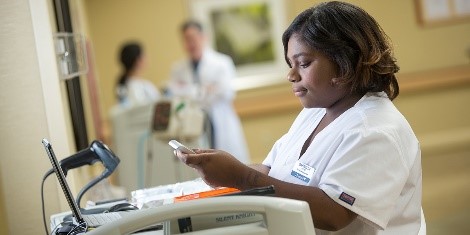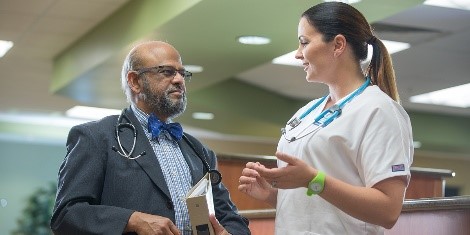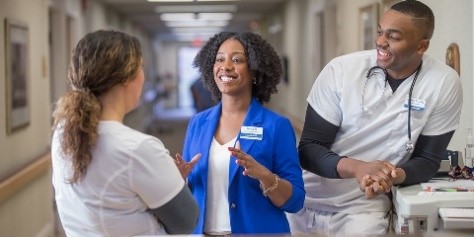 (Source: dailynurse.com, discovernursing.com and elitedaily.com)
Relocation Employee Stories
Learn About Vicky R.
ProMedica Senior Care Florida
Relocated from Naperville, Illinois and Reno, Nevada
Vicky's story begins as an ProMedica Senior Care nurse working in Naperville, Illinois. The opportunity to relocate came to her attention from a company-wide email, which introduced candidates to select facilities that participate in the relocation program.
"This was a huge advancement for my career. It was also huge to be the first nurse to be [relocated] because I had only been with the company for about a year."
With the help of ProMedica Senior Care paying moving expenses, Vicky easily transitioned from Naperville, Illinois to Reno, Nevada. She was able to quickly get established in her new work environment and home.
Since her first relocation, Vicky has moved to another ProMedica Senior Care facility in Florida. She states that, "It's great to have the knowledge of what [ProMedica Senior Care] does, because you can walk into any building [anywhere] and know what's going on. [Relocation] was not hard to get used to at all. I would recommend relocating to anyone who's looking for a change."
Whether you are looking for a change of pace or a new adventure, we can help you relocate* your nursing career from one location to the next.
Check out our current nursing relocation positions listed under the Related Jobs section on the right-hand rail. If you do not see your desired location area, CLICK HERE to fill out our form so a recruiter can contact you to find out where ProMedica Senior Care can take you!
*Relocation assistance offered at select ProMedica Senior Care facilities. Current employees interested in internal transfers should discuss this with their HR Designee and/or supervisor as well as complete an employment application through the ProMedica Senior Care Career Site for their desired position/location.